My goal is to create rustic wood furniture that is well constructed, incorporating innovative design and the highest level of craftsmanship. I personally design and handcraft every piece with an emphasis on style, function, and value. Wood furnishings such as rocking chairs, tables, dining sets, desks, beds, bookcases and deck furniture are all custom built.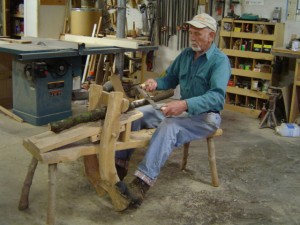 I specialize in designs with beautiful hardwoods that only nature creates. My inspiration comes from the natural world that surrounds me and I am also influenced by master woodworkers Sam Maloof and George Nakishima. Each piece of log, slab, twig, bentwood, or rustic wood furniture uses lumber hand selected and processed on site with my own lumber mill. I use renewable wood-oak, ash, cherry, walnut, maple, pine as well as downed and damaged trees- featuring the color and figured grain that only nature can produce. I have complete control of the process from the forest to the final form.
I strive to demonstrate artistry in wood that incorporates rustic, traditional, contemporary, and modern design elements. I specializes in hand selected, natural edged, solid wood designs using interesting colors and grain patterns found in the wood. I work with his clients to build a piece of custom rustic wood furniture that fits their function, style and taste. Each piece of custom rustic wood furniture is as individual as my clients.
Call or visit the studio where I create unique rustic and freeform furnishings destined to become family heirlooms.